taggiasca.com
taggiasca places:
Villa Faraldi



The church in the main village, dedicated to San Lorenzo, has a facade decorated with stuccowork.
In front of the church of San Lorenzo there is a fine courtyard overlooking the whole valley: sometimes from there it's possible to see Corsica's mountains.

In the church of Deglio Faraldi there is a polyptych of the XVI C. by Il Pancalino.

In the church of Riva Faraldi there is an important wood carving representing the Transfiguration.

During the whole month of July Villa Faraldi hosts the Festival, a very important artistic meeting internationally renowned; for more informations about the Festival please read the Comune di Villa Faraldi Official Site, or mail festival@comune.villa-faraldi.im.it.
---
Other sites about Villa Faraldi: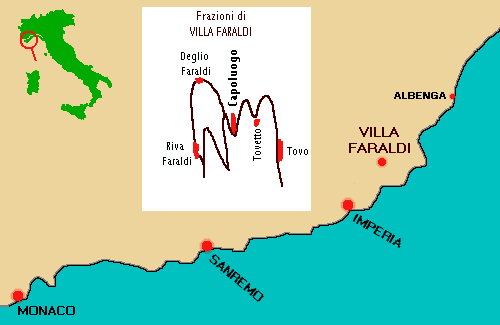 ---

---
Back | Top Level | Shop | Site Map | Start Page | Search | E-Mail

---


copyright © 1999 - 2000 by It-Web Information Technology - all rights reserved